I'm young and my history isn't all that glamorous and long, but here's where I come from and a few things I've done!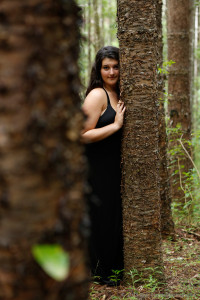 I am a Singer/Songwriter from Far North Queensland who plays guitar and piano. I've been playing music and singing for as long as I can remember. My music has a wide range of genre from indie to folk, pop, country, cabaret, all the way to bluesy-rock. I write songs about true stories, social comment, monsters under the bed, hate, love, clear buttons, war, childhood memories, things that make me mad, things that make me feel good and whatever happens to come to mind at the time when I'm 'pen in hand', at my instruments (or in the grocery store…or the shower…or in the middle of the night!). I believe there is something for everyone in my music.
My early years were filled with music from The Beatles, Keith Urban, John Farnham, The Mighty Reapers, ACDC, Missy Higgins, The Waifs, my Dad's band practice nights, Kasey Chambers, Grace Knight, Flanders and Swan, The Hansons, Jim Croce, Billy Joel and Neil Young (just to name a few!). The 12 Bar Blues and Whiter Shade of Pale, along with Amazing Grace and Heart of Gold featured as rather huge influences in my musical life.
I have a strong love for live performance. Getting to see how an audience reacts to your music and the stories you have to tell is such a great experience. (It also scares the breath out of me, but that only makes me love it even more!)
I started performing many years ago at the Tablelands Folk Festival in Yungaburra with my siblings and friends on the volunteer stage when I was about 9 or 10. Over the years I worked my way up to being a professional headline act.
I've always loved to dance and sing (and lets face it… be a drama queen!) and when I was 11 I auditioned for the local Malanda Theatre Company's musical "Oliver" and was a chorus member. I proceeded to be a part of every musical they put on until I was 18, landing myself a few larger roles and later playing Roxy in "Chicago" which was a huge hit and a whole lot of fun.
In 2011 I produced an EP with my sister called "Woolly Holiday" (That's the name of the EP, not my sister!) in a friend's basement/studio, we then launched it at the Tablelands Folk Festival.
I studied Music Theory and classical singing for a number of years and completed quite a few exams in both. I also grew to appreciate and love the difficult and truly glorious art that is opera.
I was the support act for Melbourne folk duo "The April Maze" when they did their FNQ tour (Kuranda and Yungaburra) in 2012 and shortly after had a near fatal car accident which threw me into a very different and unexpected way of life, and led me to (finally) recording my first full album.
I recorded my debut album "A New Beginning" with Nigel Pegrum at Pegasus Studios in Cairns Qld, released on August 30th 2014. I worked on it for about 6 months. It's a full album of 12 of my songs, some with a full band sound and some a little more stripped back. It's such a diverse album in both music and lyrical content and I had an absolute blast recording it! I faced many a challenge, met some very talented people, learnt a lot of things and came out with a great album and a wonderful experience!
Now the hard part comes where I have to get the album out there as much as possible. I'm going to need YOUR help here! I think you will love the album, and so will your friends and family, maybe even your neighbours and their friends? I don't mind a cent if you tell people all about me and what I do, or if you direct them to this website, or to my facebook page, or my concerts! I don't even mind if you become my greatest fan! You are the people that keep this dream of mine afloat and the good music coming!
Here's to a new beginning!
Jasmin